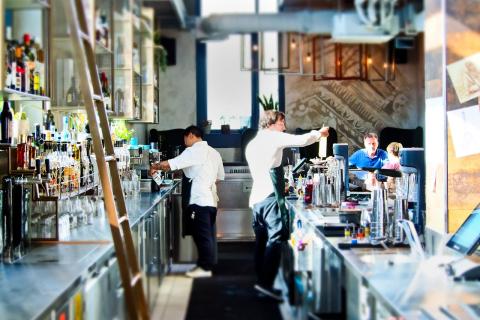 Inns, providing meals for travellers, have been around since ancient times. The Romans ate 'on the go' in a Thermopolium and these small inns were usually equipped with a counter facing the street.
Later, taverns and medieval hostels sprang up, where you could stay overnight when travelling and where you were provided with culinary delights.
While the Chinese provided à la carte dishes as far back as the Song dynasty (960 - 1279), in Europe people were satisfied with any food offered up by cooks.
Modern gastronomy, as we know it today, originated in France in the 18th century and from there it conquered the whole world. In the beginning, the term restaurant stood for a meat broth that was supposed to give the body renewed strength.
A resourceful businessman opened the first restaurant in Paris, where he offered various meat broths for consumption. It quickly became a popular meeting place, especially among wealthy citizens.
Today, the provision of good food is considered to be important in every country in the world and chefs are always creating new dishes and ways of preparing them. In addition to traditional dishes, the menus of both large and small restaurants feature modern interpretations and unusual combinations of flavours.
People today travel to far-off countries and menus in two or three languages are part of everyday life almost everywhere.
Translations transport the culinary arts around the globe
Today, menus are translated into several languages, especially in developed tourist regions and people often want to recreate the regional delicacies, they enjoyed on holiday, at home.  
Translation agencies support the exchange of cooking methods and combinations of ingredients, because trained translators with specialist backgrounds are just as familiar with general gastronomic terms as they are with country-specific delicacies that require special cooking methods.
All over the world, food is associated with enjoyment and creativity, and translations for gastronomy must also be able to convey the feelings associated with it.
Translators who are experienced travellers help to make, for example, the Far East more understandable for Europeans, because in all languages there are peculiarities which can only be conveyed through experience.
Another important service provided by translators is in the field of health certification and hygiene guidelines, which are internationally required in the catering industry.