Alphatrad UK offers voice-over services in the foreign language of your choice.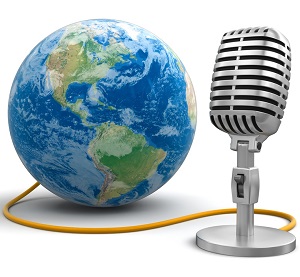 What's more, we are able to work with most multimedia formats. Here are a few examples of the projects we can undertake:
Voice recording for PowerPoint presentations, websites, product films and instructional videos
Telephone information service:  multi-lingual information while customers are on hold in your telephone system,
Advertising (image and marketing films), games and software
Podcasts
Courses and training (e-learning)
Audio guides and museum guides
The text can be adapted to time code specifications
Other services available on request.
A VO or voice-over artist either narrates or is used to dub an existing medium usually in a foreign language, which is used as an alternative to subtitling. Dubbing is a much more practical method than subtitling for media such as children's programs and films. Dubbing is undertaken in a studio, with voice artists that are familiar with the specialist working methods of a professional recording studio. Before recordings begin, you are given the opportunity to discuss the specific requirements of your project, such as the tone and type of voice, the message you're tying to project and what the final production should include or look/sound like. We can also translate any scripts into the language of your choice.
The benefits of using our foreign language voiceovers:
Recordings made using the best native voice artists, who speak without any accent which might be considered foreign in the target country.
We know that time is important, that's why we manage the recording session, because you do not always have the availability to come to the dubbing studio.
You'll end up with a professional, expertly assembled audio recording that will effectively get your messages across to your audience, regardless of the language!
Languages available for professional dubbing:
Arabic
Bulgarian
Chinese (Cantonese)
Chinese (Mandarin)
Czech

Germany (Austria)

Germany (Swiss German)
Finnish
French (Canada)
Greek
Hungarian
Korean

Norwegian

Polish

Romanian

Russian

Slovakian

Slovenian

Swedish

Turkish
Ukrainian
Contact our professionals by email where you can request, a free, no obligation quotation.
You'll be surprised at the speed and professionalism of our service!
You can also visit our FAQs Page for more assistance.
Do you need more information about our dubbing solutions?
Visit our Language Recording Services Website to find out more.
Related Articles