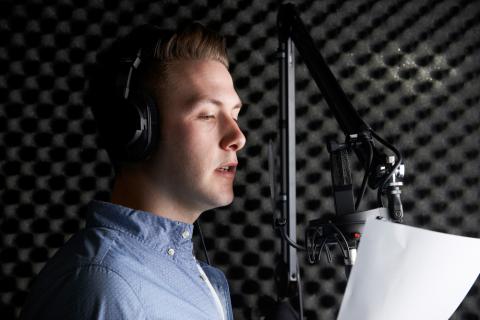 Multilingual voice-over services
At Alphatrad, professionals ensure your audio voice-over supports the languages of your choice, allowing you to operate on the international market without any language barriers.
We offer you voice recordings made with easily understandable accents, by professional male and female actors who are exclusively native speakers. Depending on your needs, we can handle voice-overs for advertising texts, multimedia products, professional voice messages, and interactive services in many languages.
Examples of multilingual voice-overs:
Voice recordings for PowerPoint presentations, websites, product presentation films, instruction videos
Voice messages: multilingual on-hold phone messages
Advertising (institutional films and marketing), games, software
Podcasts
Courses and training (e-Learning)
Audio guides, museum guides
Adaptation of texts according to time codes
Other services on request.
Thanks to the know-how of our professional translators and actors, we adapt to your needs and do everything possible to meet your requirements, guaranteeing you professional and quality voice-overs that accurately transmit every nuance and intonation. In this way, you will have audio content adapted to an international audience, while preserving your company's brand image.
The benefits of using our foreign language voiceovers:
Recordings made using the best native voice artists, who speak without any accent which might be considered foreign in the target country.
We know that time is important, that's why we manage the recording session, because you do not always have the availability to come to the dubbing studio.
You'll end up with a professional, expertly assembled audio recording that will effectively get your messages across to your audience, regardless of the language!
Languages available for professional dubbing:
English (UK)
English (US)
Arabic
Bulgarian
Chinese (Cantonese)
Chinese (Mandarin)
Czech
Danish
Dutch
Germany (Austria)
German (Germany)
Germany (Swiss German)
Finnish
Flemish
French (France)
French (Canada)
Greek
Hungarian
Italian
Japanese
Korean
Norwegian
Polish
Portuguese (Brazil)
Portuguese (Portugal)
Romanian
Russian
Slovakian
Slovenian
Spanish (Mexico)
Spanish (Spain)
Swedish
Turkish
Ukrainian
and many more
Do you need more information about our dubbing solutions?
Visit our Voice Over Services Website to find out more.
Our voice-overs: