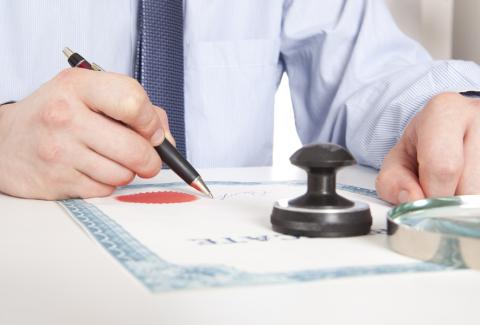 At Alphatrad UK we provide our customers with a wide range of language services.
I. Certified (official) translations (a declaration of accuracy from Alphatrad UK)
A certified translation is a translation that also comes with a signed and stamped declaration from Alphatrad. It will confirm that the project has been carried out by a professional, competent translator and that the translated text is accurate and complete.
II. Certified (official) translations (translated by a sworn translator in another country)
In other European countries sworn translators are authorised by the corresponding government to officially certify a translated document. Depending on your requirements, we can also work with our other European Optilingua counterparts to obtain sworn translations certified by the corresponding country.
We translate and certify official certificates such as:
Police criminal records checks
Diplomas 
Bank statements
Registration documents
Passports/ID cards
Other official documentation
Expert translators in our team provide high-quality translations
Our agency works on a per project principle. Our teams consist of expert translators, correctors, and other language experts and you have a fixed contact partner who will answer your questions and implement your suggestions. They will guide you from the the time we issue the quotation through the internal translation process, to the sending of your documents – thereby ensuring the whole process runs smoothly.
We place great value in developing a relationship of trust with each individual customer and we will professionally translate any of your documents.
If you need a Spanish to English translation, French, German, Italian, Portuguese, Dutch, Polish, Arabic, Chinese, Russian, Japanese or any other language, Alphatrad UK offers a proven high-quality services in over 100 languages and dialects. 
If you would like to receive some general information or a price and deadline for your official translation please contact one of our representatives in London at london@alphatrad.co.uk or Glasgow at glasgow@alphatrad.co.uk and we will be more than happy to help!
You can also visit our FAQs Page for more assistance.
FAQ about our certified translation services
You will need a certified translation for the majority of your legal and judicial procedures in another language (setting up a business abroad, recognition of a marriage certificate, etc.)
All official documents can be translated by a certified translator: identity papers, driving licences, contracts, certificates, diplomas, birth certificates, criminal records, etc.
The time taken for certified translations is often longer than for a standard translation. Times also vary depending on the subject matter and the number of words. Send us your document and we will get back to you with a quote, which will include the cost and the turnaround time.
In most countries, the certified translation is sent by post with an additional copy by email. In the UK the certified document will be sent by email only.