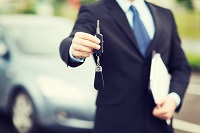 A valid vehicle driving licence is essential for many people to enable fast and plannable mobility. But every country (and sometimes even supranational alliances) issue driving licences in their own respective formats and with specific validity regulations. Consequently, driving licences may not always be valid elsewhere or are subject to restricted use (e.g. for a short period of time).
For example, a driving licence issued within the European Union (EU) is valid without restriction within the EU member states but other countries do not recognise it as a substitute for an international licence. Driving licences issued outside the EU are often valid only for the country in which they were issued. Aside from the option of acquiring an international driving licence, a translation and certification of the document means you can submit a valid permit to allow you to drive a vehicle outside the original area of validity as well.
Driving licence with certified translation
Anyone wishing to enter the EU and drive a car, motorbike or lorry here will need an official driving licence. A driving licence that is valid in the EU or a treaty member state (e.g. Switzerland) will be recognised by all supervisory authorities within the EU. A driving licence that was issued outside the EU (in a so-called third country) will often have to be submitted together with various documents at the competent licence authority in order to be recognised. This frequently involves the certified translation of the driving licence.
As a general rule: You should contact the local authorities in your country to ask which conditions apply for the recognition of a non-EU driving licence. Information is also available on the EU's website (see Driving Licence Recognition and Validity).
We offer certified translations of driving licences
We translate your driving licence from and into many languages and certify the translation to ensure that you can use your permit to drive a vehicle in other countries, too.
Use our contact form for a no-obligation enquiry. We'll get in touch with you as soon as possible and will be happy to advise you individually.
Our branches:
Certified Translation Services for 100+ Languages