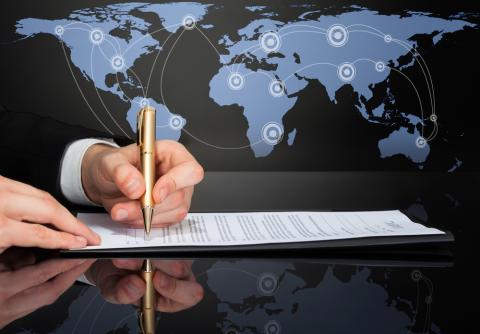 Are you buying a house on the other side of the world or are you planning to work in a far distant part of the world for a few months? Or you would like to enter a licensing agreement with a partner whose national language you do not speak? In our networked world, international purchases and agreements are not rarities anymore, because when two contracting parties speak different languages, the contract will be submitted to a professional translator, in order to guarantee the same informational basis for both parties.
Translations of contracts are however, a sensitive matter, as they are by nature confidential papers
The clauses in service contracts and work contracts are often very complex in formulation and contain important, legally enforceable paragraphs. Of course, the content of every translation must precisely adhere to the original, in order to obviate any potential problems. This also applies in cases of a termination or a disagreement and also a revocation, which must be formulated in the translation such that even experienced jurists can develop no doubts about the agreement between the original text and the translation. Here you need experienced translators with the necessary legal expertise.
We provide translation services in the following fields:
Trading company contracts
Joint venture contracts
Commercial commission contracts (and other forms of commercial representation)
Commercial loan contracts (including the loan with a guarantee in the form of securities)
Commercial purchase and sale contracts
Land transport contracts (and other transport contracts)
Shipping contracts (charter contract, bottomry contract and marine insurance contract)
Commercial exchange contracts
Agency contracts
Trademark licence contracts
Publishing contracts
Other kinds of contract
Expert translators in our team provide high-quality translations of contracts
Our firm works on a project principle. Our teams consist of expert translators, correctors, and other language experts and you have a fixed contact partner who will answer your questions and implement your suggestions. They will guide you from the the time we issue the offer through the internal translation process, to the sending of your documents and will therefore assure a smooth process.
We place great value in developing a trusting relationship with each individual customer and we will professionally translate your contract and any other documents that you put in our hands.
Our branches: