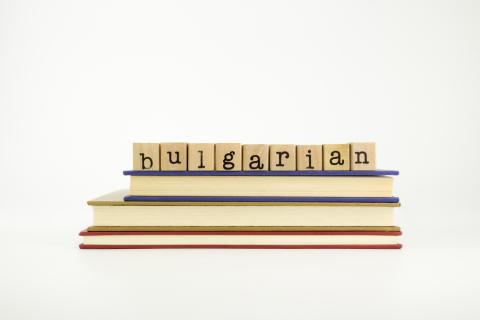 Our office offers professional translations and other language services into and from Bulgarian.
Technical translations, certified translations, interpreting, voice-overs, proofreading: Our office is a full-service agency for language services, providing the native language skills of professional translators and other linguistic experts all over the world. Our network ensures top-quality service from more than 80 branches throughout Europe. For professional translations into Bulgarian, we have experts and partners available who are often based locally in Bulgaria.
Our service offers a wide range of language combinations:
English ⇔ Bulgarian
German ⇔ Bulgarian
Spanish ⇔ Bulgarian
French ⇔ Bulgarian
Italian ⇔ Bulgarian
Portuguese ⇔ Bulgarian
Dutch ⇔ Bulgarian
and others
Our office's services:
Our branches:
Interesting facts about the Bulgarian language
Approximately 10 million people speak Bulgarian and it is one of the oldest documented Slavic languages. The suffixed definite article makes Bulgarian significantly different from other Slavic languages, and the Cyrillic alphabet was invented for Old Church Slavonic, which was used especially in the 10th and the 11th centuries.
The language's loanwords mainly come from Turkish, Russian, and Greek. Since the 19th century, people have been trying to replace Turkish words with Slavisms from Russian, but these efforts have only been able to prevail in the written language. The colloquial language is still dominated by Turkish elements and terms from German or French are predominantly used in technical fields in Bulgaria.
In terms of Bulgarian dialects, a distinction is made between East Bulgarian, which forms the basis of the written language, and West Bulgarian, which has become increasingly important, since the 20th century.
You can find additional information about the Bulgarian language and its history on Wikipedia.
Related Articles: