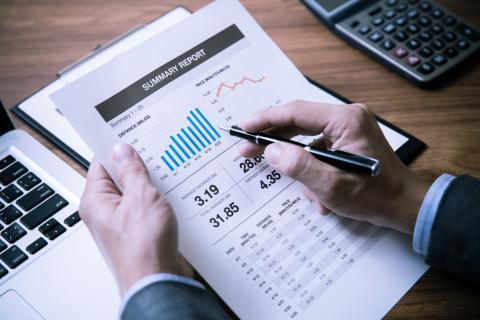 Any and all figures must be correct and complete. This is the most important requirement for financial reports and annual reports of companies. Creative interaction with language is not necessary – and that is exactly where international companies can benefit from savings: repetitions and repeated expressions often reduce the costs for translations of financial reports.
Translation memory systems ensure more efficient report translations
Tools used for computer-assisted translations are called CAT Tools. These tools are even useful for preparing translation offers, as they find words and phrases in previous translations, which will not need to be translated again. This significantly reduces the time required for translations and has a positive effect on the total costs. Furthermore, these tools ensure a consistent use of the customer's terminology.
Types of financial reports that are often translated in house include:
Investment reports
Quarterly reports
Market and economic reports
Bond reports
Financial statements
…
It takes well-trained professional translators with in-depth experience in the fields of finances, banking, financial reporting, and other sectors to translate financial reports and financial statements. Companies that need to have their financial reports translated are active in the most diverse sectors, e.g. in marketing, engineering, medicine, etc.
Confidential treatment of your financial reports
The security of your data is our highest priority. We not only apply completely reliable security standards in terms of technology, we also heighten our employees' awareness for that subject and commit them to take part actively in data privacy.
Translating texts from the financial sector is an area in which Optlingua focuses. Not only are we able to cover the most important languages in the business area such as English, French, German, Japanese, Chinese, Russian, or Spanish, but we offer over 100 additional languages. And we are able to handle any type of document. Simply send us your PDFs, Word, Excel, PowerPoint; QuarkXPress or InDesign documents and we would be happy to submit an offer, free of charge.