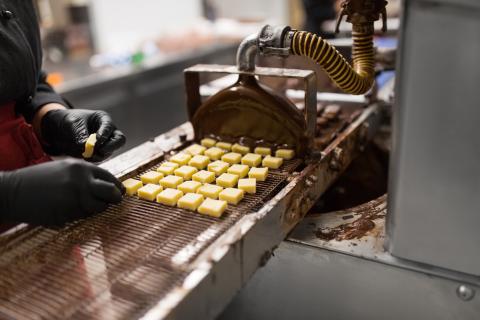 Sugar makes you happy – this has long been scientifically proven. In well-dosed amounts, sugar increases the concentration of the happiness hormone dopamine in the body and many people like to treat themselves to a little bit of happiness every day.
The confectionery and chocolate industry profits from people's appetite for sweets, because small sugar treats and chocolate products are popular in almost all nations. As far back as 8000 B.C. sugar cane was a valuable commodity and from the 16th century onwards, modern sugar refining has laid the foundation for today's confectionery industry.
The biggest confectioners in the world
Germany is a major player when it comes to the export and consumption of sweets. A good tenth of the wide range of confectionery exports come from Germany and at the same time they also top the consumption list for coloured sweets.
The Irish are in second place in the list of consumption per capita, followed by the Swiss.
The largest importer of confectionery is the USA – it imports twice as much as Germany, which ranks second, and together with the UK, Canada and the Netherlands, they make up the top five largest importing countries.
The cocoa bean – the sweet gold
The cocoa bean has been cultivated since about the 4th century. The Mayas and Aztecs enjoyed the taste – especially in warm cocoa-containing drinks, which were named the "Drink of God".
Mayas' cocoa beans remained an undiscovered pleasure for a long time, until the Spaniards arrived in Latin America to discover new treasures. They brought the drink of God back to Europe and from then on the cocoa bean was consumed widely.
In addition to being made into drinks, it was soon processed into the chocolate bars we know and love.
Europeans don't just love to eat chocolate; they are also leaders in its exportation. Today, about a third of the world's chocolate production comes from Europe, although the cocoa growing areas are still mainly located in Central America, Southeast Asia, and Africa due to the climate.
Professional translations in the confectionery and chocolate industry
The production, distribution, transport, and processing of the cocoa bean is a global business in which coherent communication can give any company an advantage over its competitors. Professional translators ensure that contract negotiations can be handled quickly and easily so that the supply of confectionery does not dry up. Our translation agency is at your disposal.