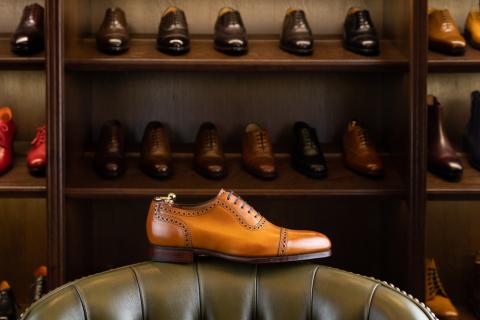 The cobbler's trade dates back to Roman times and today, around 22 billion pairs of shoes are produced annually. However, many steps in the production process are still done manually, for example the fitting of the leather pieces, which then have to be glued.
Almost two thirds of the world's shoe production takes place in Asia, where important work processes such as tanning leather is outsourced. Often the material for leather shoes that are handmade in Europe comes from Asia, as the safety regulations there are more relaxed than in Europe, which is much more environmentally conscious.
Strict environmental regulations apply to the leather industry in Europe
Even in ancient times cowhide was considered to be the perfect material for making shoes. In the past, vegetable materials were used to make the leather tear-resistant, but today chrome tanning with salts is usually used.
In modern production, leather is often tanned, dyed, and shaped in a series of steps to produce a durable pair of shoes. However, the shoe and leather industry in Europe has been subject to stricter environmental regulations since the 1970s and only specialised tanneries remain in business in Europe today. In 2006, for example, there were about 2,300 tanneries in Italy and only 80 in Germany.
The process of using raw animal skin to produce a trendy handbag or a pair of high-quality leather shoes still involves a lot of manual work, but the longevity of the products means that demand is increasing again.
Online business is growing
High-quality products are in demand everywhere and fine shoes or bags and belts can be sold online worldwide with just a few clicks. At the same time, the ability to compare prices online is helping to make purchasing online easier and more convenient.
The increase in the international trade in leather goods in large online marketplaces has been causing increasing problems for retailers for years, and between 2009 and 2017, the number of shoe shops with shop counters fell by almost a quarter.
Industry-specific translation services for the shoe and leather industry
Globalisation and the ease of ordering online poses new challenges for producers and retailers. Multilingual product descriptions promote sales abroad and international contracts are a necessary building block on the road to lasting success, even for small businesses in the leather industry. Well-founded translations support the opening of new markets for products and increase the chances of long-term success. Our professional translators are at your disposal.