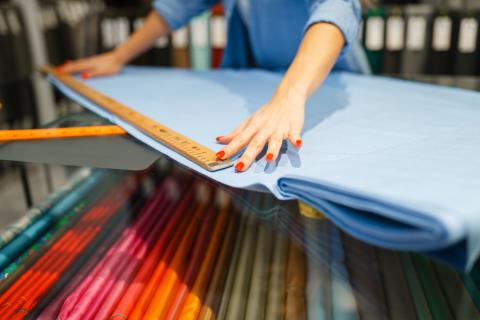 The textile industry in Europe has an average annual turnover of more than 80 billion euros. Although the industry has not been able to record any major leaps in growth, the figures have remained stable in recent years and the outlook remains rosy. There are four industries in particular that can look forward to predictable sales in the future.
1. Fashion and clothing
The fashion and clothing industry reinvents itself every few months. Creative minds are continuously creating the fashion of tomorrow and anyone looking for something new will be able to find offers online from all over the world with just a few clicks.
No other trend can spread faster worldwide than the latest fashion trend.
2. Home textiles
Curtains, upholstery fabrics, carpets, decorative fabrics, and bedding create atmosphere in a room and provide a fashion statement in the same way as clothing. People often change home textiles to mirror the changes of the seasons, to make a home more cosy in colder months for example. Functional fabrics are becoming more and more popular and thermal curtains or easy-care upholstery fabrics ensure that the industry is constantly developing.
3. Classic shoe and leather goods
For a long time shoes made of leather were the norm but the plastic industry revolutionised and reinvented footwear and man-made products have become widespread. However, leather is still considered a superior natural material and has many positive characteristics and as a nod towards sustainability, the shoe industry is increasingly returning to the use of this classic natural product.
As far as accessories are concerned, genuine leather has always been considered to be first-rate, robust, and durable, and leather belts, gloves and handbags are still selling well today.
4. Technical textiles
Modern technical textiles are used in things such as insulating fleece, tent roofs, lightweight construction material, and wound dressings to name but a few. With every new development, technical textiles see an increase in their market and there is no end to the possibilities of using them in the future.
Sector-specific translation services for the global textile industry
Billions of pounds are turned over in online trade in the textile industry every year. Highly complex technical textiles meet the highest demands for modern building projects worldwide and small fashion designers rely on their online shops to expand their brand awareness.
There are few industries that can function globally as easily as the textile industry and international trade and sales rely on professional translations. When it comes to product descriptions, contract negotiations, or explaining the advantages of modern textiles, translators act as a link to overcoming language barriers and therefore provide a building block for a successful textile industry worldwide.