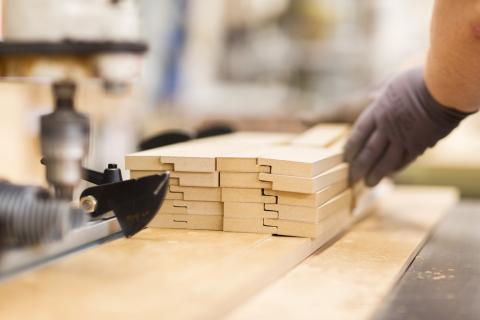 For more than 400,000 years, people have used wood as a natural raw material for tool and furniture making, as fuel, or for energy production, and for the building industry. The renewable raw material can also be worked with simple tools and today, above all, it has the extra advantage of being a sustainable material and has the potential to be recycled.
Diversity in sub-sectors
The carpenter is regarded as the forefather of the wood industry and this craft, which can still be learned today, became the starting point for the development of the modern timber industry.  In addition to the sawmill industry, there are many other industrial sectors that rely on the raw material wood:
Wood-based material manufacturers (MDF, plywood boards, wood fibre boards, OSB, etc.)
The pulp and paper industry (cardboard, paper, paperboard)
Parquet manufacturers
Producers of industrial furniture
Plants manufacturing veneer products (using different types of wood veneer to manufacture furniture and surfaces)
Packaging material and pallet manufacturers
Producers of prefabricated wooden structures
Carpenters and the timber construction industry
Energy generation (pellets, wood chips etc.)
Wood has a particularly sustainable resource chain
Solid wood is not only a high-grade material, but is also particularly sustainable. Wooden surfaces can be redesigned many times and proper care ensures many years of use. Other wood-based materials are also durable and have a low impact on the environment.
Wood is therefore considered to be the building material of the future and it is hoped it could even replace steel and plastic with modern processing methods.
Unlike plastic or steel, wood is of great interest to the recycling industry, because a lot of energy can be obtained from the renewable raw material with little effort. Across the globe there are currently around 40 million square kilometres of forest and through sustainable management stocks should be largely preserved for future generations.
Sector-specific translation services for wood
Since the mid-1980s, the worldwide trade in raw and sawn timber has been growing by leaps and bounds. The sawn timber trade alone increased by more than 40 per cent over 15 years to the year 2000.
Above all, globalisation has provided the timber industry with a lot of growth potential. Whereas in the past, regionally grown tree species were predominantly used, today raw products with the best properties can be sought worldwide for every project.
The international trade in wood as a raw material requires not only a great deal of specialist knowledge but also professional translation services. Rapid trade between individual countries in Europe is particularly important, to fill small gaps in the market in this highly competitive sector.
Mutual trust in the quality of wood as a natural building material is an important factor in all negotiations and with expert translators; every transaction can be carried out reliably and quickly.