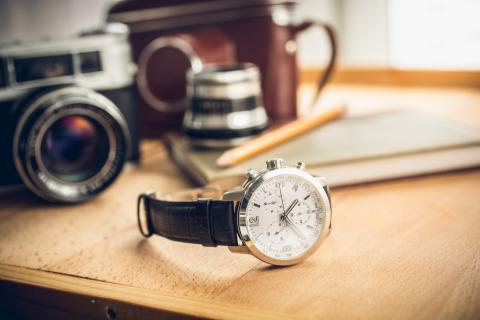 Measuring time has been an important part of life for centuries and the ancient Egyptians, for example, used sun and water clocks. Over time, smaller and smaller and more precise clocks have followed.
In today's digital world many devices, such as mobile phones, display the time as an additional feature. Therefore, some of the watch industry has shifted to producing inexpensive products or fashion watches only.
Others produce real jewellery, which takes many hours of manual work. High-quality pocket watches and wristwatches made of precious materials are often considered to be an investment.
The Swiss watch industry exports the highest number of high-quality watches
In terms of value, Switzerland is the world's largest watch exporter, ahead of China and Hong Kong. The label 'Made in Switzerland' is in demand worldwide, especially in the luxury watch market.
The success story of Swiss watches began in 1587, with the French immigrant Charles Cusin, who brought the watchmaking craft to Swiss goldsmiths. Today, around 700 companies in the country are engaged in watch production and, despite modern Smartwatch competition, employment in the classic watch industry continues to grow.
The three top-selling watchmakers generate half of the world's sales and come from Switzerland. Rolex is number one out of the most valuable Swiss watch brands.
Watches as import and export hits
In addition to Switzerland, Hong Kong, and China, Japan, the USA, and the UK are among the players in the global watch market. While China's products primarily serve the low-cost sector and cheap digital timepieces come from the Far East, other countries are increasingly focusing on high-quality products made of precious metals.
Despite digital competition, mechanical timepieces are in great demand, especially in the high-price segment. In terms of numbers, however, China has led the export rankings in terms of pure unit sales for many years, even though export figures have fluctuated slightly more recently.
The international watch trade relies on professional translations
Watches are popular all over the world due to their versatility and are purchased as an investment, a status symbol, a piece of jewellery, as a gift or purely as a timepiece. Some people also purchase many different versions to add to their collection of classic watches.
The international watch trade, like all global trade networks, depends on clear communication and professional translations not only facilitate communication between trading partners, but also ensure that all owners have easy to understand product descriptions and operating instructions.