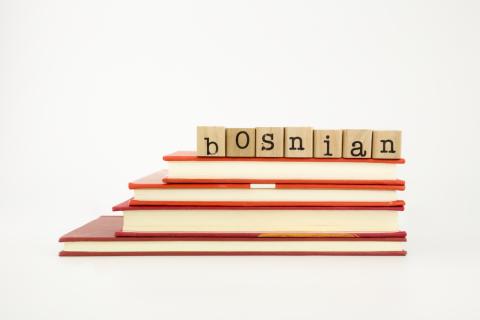 Our office offers professional translations and other language services into and from Bosnian.
Technical translations, certified translations, interpreting, voice-overs, proofreading: Our office is a full-service agency for language services, providing the native language skills of professional translators and other linguistic experts all over the world. Our network ensures top-quality service from more than 80 branches throughout Europe. For professional translations into Bosnian, we have experts and partners available who are often based locally in Bosnia and Herzegovina.
Our service offers a wide range of language combinations:
English ⇔ Bosnian
German ⇔ Bosnian
Spanish ⇔ Bosnian
French ⇔ Bosnian
Italian ⇔ Bosnian
Portuguese ⇔ Bosnian
Dutch ⇔ Bosnian
and others
Our office's services:
Our branches:
Interesting facts about the Bosnian language
Bosnian is a southern Slavic language. It is spoken mainly in Bosnia and Herzegovina. There are also Bosnian speakers in Serbia, Croatia, Macedonia, and Montenegro. Bosnian is the mother tongue of around two and a half million people. It is very similar to Croatian and Serbian and there is very little difference in the vocabulary, spelling, and grammar. If you speak Bosnian, you will be able to understand Serbian and Croatian very well.
The status of Bosnian is thus often discussed. Some linguists doubt that Bosnian is even a distinct language at all. They claim that it is only a national variation of the Serbo-Croat language.
The many foreign influences on Bosnian are interesting. For a long time, the area belonged alternately to the Orient and the Occident. For this reason, there are many Arabic, Turkish, and Persian terms in its vocabulary. This is actually quite rare in Slavic languages and makes Bosnian quite unique.
You can find additional information about the Bosnian language and its history on Wikipedia.