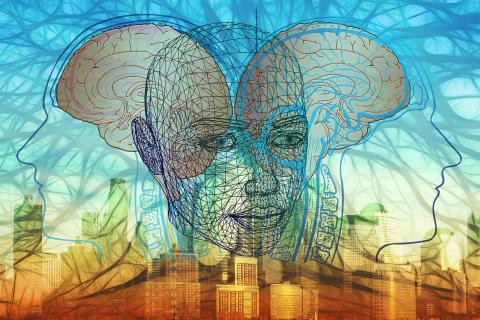 The term psychology describes the science of conscious and unconscious processes in the psyche and thus in human behaviour and experience. Psychology has only been recognised as a science since the 19th century, even though it was studied by Plato and Aristotle well before then.
In addition to the classical field of psychology, in which individual people and their relationships to others are the focus of attention, there are many other areas of life today for which knowledge of the behaviour of people in certain situations is indispensable.
In advertising and market psychology, for example, people try to predict how new products will be received by consumers and how new needs can be created to increase sales. Media psychology examines behaviour in connection with media consumption and industrial and organisational psychology deals with the interaction between organisations and individuals.
Health psychology is concerned with people's attitude towards their bodies and tries to promote the maintenance of health. A comparatively young field, environmental psychology, deals with the influences of the environment on people and the behaviour of people towards the environment. Traffic psychology tries to determine the behaviour of people in transport and traffic systems.
Psychology shares results and studies internationally
All over the world, small and large studies are constantly undertaken to investigate the behaviour of people in certain situations. For this purpose, a great deal of data is collected and evaluated in various languages, which is derived from questionnaires and practical tests.
Often studies are conducted in parallel in different countries to explore the differences in culturally different regions and all results are collected in a clear and detailed way at the end. The results of studies then encourage other psychologists to do further research in the same field and thus more and more knowledge about people and their behaviour is revealed.
Translations of scientific publications, studies, questionnaires and analyses form a broad basis for international cooperation, and specialist translators in psychology know that every detail must be translated into the target language accurately and meaningfully to avoid falsifying results.
Professional translation agencies support the work of researchers around the world and thus literally ensure greater mutual understanding.
For more information: 
The importance of translation for international psychology conferences