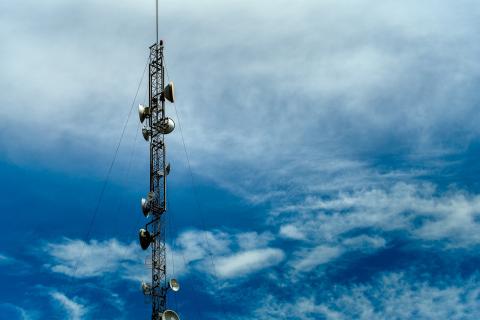 Long before the invention of modern telecommunication devices, people were able to talk over long distances and were often very inventive. Fire signals on mountains announced visitors or the enemy, smoke signals ensured that different settlements could communicate with each other, and longer distances were covered by messengers.
Modern telecommunications underwent rapid technical development with the invention of telegraphy and the telephone from 1861 onwards, which offered completely new possibilities, and then the advent of the Internet. It was estimated that by 2018, 3.9 billion people would already be using the Internet and communicating with people from all over the world via this medium.
The transmission of messages has been important throughout our history and whereas in the past, messengers often travelled for days or weeks with a message, today it takes fractions of a second to send a message by e-mail around the globe.
Distances no longer play a major role today
Thanks to the Internet, globalisation has quickly established ever closer links and there are few companies today that do not maintain effective international business relations. Individual components of a product are manufactured in different countries for example, and are assembled in one place to be shipped again as a finished product to all parts of the world. Small online shops purchase goods from the Far East, and large corporations maintain branches worldwide and communicate with representatives of the individual countries simply and quickly online.
But, it is not only the business world that has benefitted from developments in communication, because the age of mobile technology has brought people from all parts of the world together.  Modern video also enables direct communication, and is also used by people who speak different languages.
Where technical expertise and incomprehensible official forms used to be held up by language barriers, trained translators are now used to translate all documents, from a general enquiry to certified translations of birth certificates and sophisticated cooperation agreements, thus ensuring smooth communication.
Translators overcome language barriers promptly and professionally
For a long time in our history, it was only scholars who were able to translate news from distant countries into their own languages, and communication between distant states was reserved for rulers. The ordinary citizen had little or no contact outside of their own region.
Today, professional translation agencies support communication between individuals and companies, thus helping to quickly overcome the language barrier. Even linguistic and technical idiosyncrasies within a language are faithfully interpreted into the target language by trained and experienced translators within a very short time.
Now, every European entrepreneur can communicate with his Arabic, Chinese or Russian-speaking partners via translation agencies and use the Internet to quickly transmit messages and inquiries.