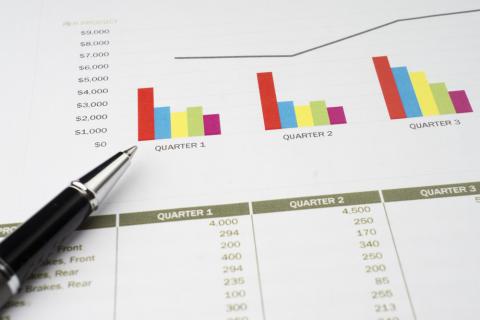 Quarterly reports appertain to any company exceeding a certain size.
They are therefore particularly important if these companies go public or wish to use these reports to inform the board of directors and shareholders of their development.
Quarterly reports are characterised by the fact that they are issued on fixed dates, four times a year. They serve not only to support internal communication within the company, but also to improve the external relations of these companies.
Quarterly reports are directed at company executives responsible for the development of the company and at the company's shareholders and board of directors. They provide the necessary content, informing the above about the development of the company from an accurate and reliable source.
In terms of content, quarterly reports are divided into several chapters, in which the information is broken down according to topics. Generally, the first chapter contains information regarding the organisation and area of activity of the company. The essential information for the analysis period is then reproduced; this is necessary to understand the company's results. The next chapter outlines the information in more detail and presents the historical closing data of the company; this is usually dedicated to this section or an entire chapter.
The significance of the translation
Prepared in this structured form, the quarterly reports are ready to be sent to the addressees. At this point, it is clear that they will need to be translated into different languages. Why? Amongst other things, because we live in a globalised world where a company's shareholders may come from any corner of the world. Such information must therefore be provided in the shareholders' own language, or at least in a language that is understood by the majority.
The translation is therefore a fundamental part of the company's transparency vis-à-vis its associates and indeed the public. To provide coherently translated quarterly reports is a synonym for the quality, security, and commitment of the company.
Furthermore, the translation of these documents is also important for advertising to new customers. After all, even if the information concerned relates only indirectly to the readers, they will in their own language make an association with the solvency of the company, which in turn has a confidence-building effect.
We frequently translate the following kinds of documents: