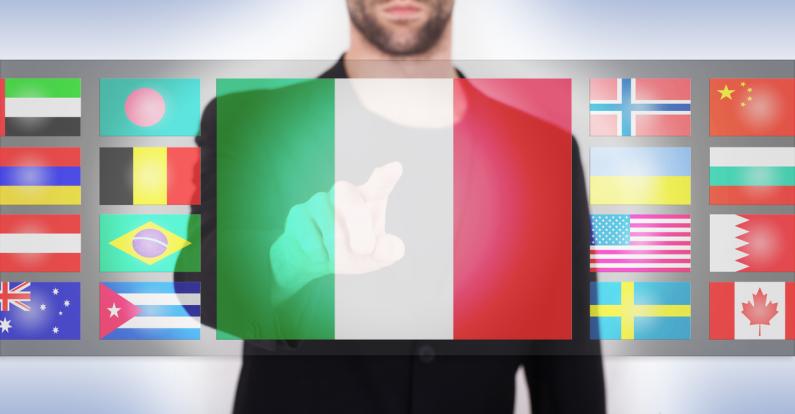 Multilingual Voice-Overs
Do you want to make your audio and video content accessible to a native Italian-speaking audience? Here are our tips for choosing the right Italian voice-over professional.
What qualities should a professional artist possess?
First of all, you need to be aware of the qualities that a good professional voice-over artist should have, whether it is needed for a voice-over in Italian or any other language.
Any good voice dubber must have impeccable articulation and interpreting skills, and have the ability to adapt their vocal range to the client's needs, the content to be dubbed and the audience to be targeted...
To get a natural, accent-free, perfectly nuanced Italian voice-over, you should use a professional, native Italian voice-over artist.
The advantages of a professional studio for recording a voice-over in Italian
In addition to using the skills of a professional, you should make sure that you have the best quality recorded sound.
The best solution is to use an agency with a professional recording studio.
By using a professional studio, your Italian voice-over will be recorded in a room with perfect acoustics, and with high-quality equipment (professional quality microphones and headphones etc).
This will ensure you get a perfectly clear and audible Italian voice-over, without any irregularities or audio malfunctions.
Finding a Italian voice-over artist: criteria to consider
You should take several things into account when choosing a professional Italian voice-over artist for your content.
When choosing which professional to use you should take into account the type of material to be dubbed: GPS, audio guides, courses and training, professional voice messages, documentaries, audio books, advertisements, podcasts, etc. You should choose the voice that best suits the type of content (informative, advertising, educational, etc.)
In addition, it is very important to consider your intended audience. For example, a female voice is generally preferable for a predominantly female audience.
You should also ensure that the Italian voice-over fits your company's culture and style, to keep your brand image consistent.
Depending on these different criteria, you can then decide to choose a voice-over in Italian that is soft, dynamic, convincing, reassuring, journalistic or soothing.
Finally, think about listening to several voice-over extracts in Italian before making your choice. At Alphatrad UK, we suggest that you listen to the different sound samples produced by our professional artists, both male and female, whose mother tongue is Italian, to choose the one that best suits your needs and your project.