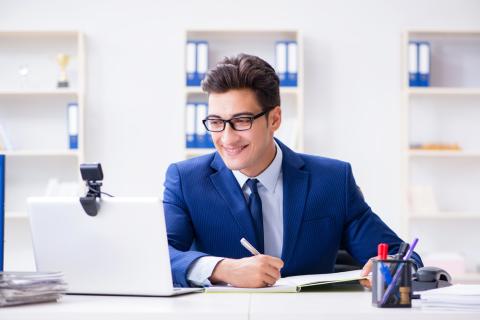 Do you need to have a conversation between partners, who speak different languages and who are in different locations, and a directly translating interpreter? – With video interpreting this is no problem.
Interpreting by video is a natural development of telephone interpreting, which only became possible with the widespread use of the Internet. Today, video conferences for two or more participants can be set up simply by clicking on the Internet using various programs and tools, some of which are free.
Each participant has the option of switching on the screen. You can hear and see the people you are talking to on the screen, while listening to their voices via loudspeakers. The transmission takes only fractions of a second, no matter how far apart the participants are. This form of communication is often used for business negotiations or meetings, but also in the health sector for conversations between doctors and patients, and of course for private conversations.
What are the advantages of video remote interpreting?
In a video call, in addition to listening to people speaking, you have a moving image of the person you are talking to and you can see each other almost as if you are both sitting at the same table. All participants in the conversation can see the gestures and facial expressions of other people and this is also of benefit to the video interpreter. They add body language to voices when interpreting and this further improves the understanding of the statements needing to be translated.
Parties living far away from each can use the technology to hold quick meetings and thus discuss problems or changes spontaneously without having to travel. Not having an interpreter present, is a lower cost option, and the video interpreter can translate any statement immediately afterwards.
Here is an overview of the advantages of video interpreting:
Direct translation for immediate communication
Cost savings through conference participation via the Internet
No time-consuming travel for participants
Fast reaction to problems and changes in planning
Cost-effective because there is no need to have the interpreter present
Our service
We offer video remote interpreting for many different languages and work closely with professional interpreters from many countries. Our team consists of experienced linguists with different areas of expertise, so that we can also provide competent support for specific topics. Would you like to know what the costs are if you use our services?
Contact us without obligation using our online form to find out prices and costs for your specific requirements. We are your video interpreting service for the entire B2B sector and for many other sectors if required.
Alphatrad works in interpreting in the following languages especially:
Other languages on request
Read more: